Poppin' Popcorn Online Popcorn Fundraiser Flavors
​​

​New! With traditional brochure sales, online sales, and 100% Virtual Fundraising options, our new popcorn fundraiser will be a top seller with even more popcorn flavors to choose from! Choose from Cheesy Cheddar, Kettle Corn, Buttery Caramel, Cheddar Jalapeno, Chicago Style, White Cheddar, and many more! Easy to sell, popcorn is a favorite snack food for children and adults! This program is available for any organization throughout the U.S. but works best for organizations that can sell 400+ items to receive free shipping. Your organization will earn a 40% profit.

If you prefer to offer both an online fundraiser and a brochure fundraiser, you can do both! There are no up-front costs to start selling and we'll provide brochures for each seller. With in-person sales, your supporters have the option to pay with a credit or debit card using their mobile phone. With online sales, your participants can share a link by email, text, or post on social media to share the brochure.
If your organization requires a virtual fundraiser, we can offer that as well!
Best-Fundraising-Ideas ● 102 Thompson St ● South Glastonbury, CT 06073 ● Contact: Deb Murray, Representative ● Bookmark: www.FundraisingWithCandleFundraisers.com Phone: (860) 384-3691 ● Fax: (410) 630-7080 ● Email: deb@best-fundraising-ideas.com ● Copyright © 2002 Best Fundraising Ideas, all rights reserved
Click on image to learn more and view brochure
Poppin' Popcorn Fundraiser Profit
Benefits of Choosing our Online Poppin' Popcorn Fundraiser this Season
Poppin' Popcorn Brochure Fundraiser with Online Sales, or Virtual







Profit: Easily earn a 40% profit.

Availability: Available for tax-exempt organizations. Oct 1st - Apr 30th

Upfront costs: None!
Price Range: $17 gallon, $12 half-gallon, $20 premium flavors in a gallon size
Number of items: 16 delicious gourmet flavors of popcorn in resealable

1-gallon and half-gallon bags.
Recommended for: Any size group.
Minimum Order: 50 items
Case Requirements: None. Order only what you sell
Shipping: Customers pay a $6.95 shipping fee for the first item and $3.00 for each additional item. Their order is shipped directly to their home. Upon payment, orders ship within 7 business days.

Payment: Customers can pay by Visa, MasterCard, and American Express

All natural, healthy, 100% whole grain, air-popped, gluten-free, transfat free, no high fructose corn syrup, GMO free, no additives or preservatives, shelf stable, easy to sell, and super fun to eat! Packed in resealable bags

Your organization will earn a 40% profit on all sales.

Earn 40% Profit Fundraising, Free Shipping, Free Brochures - Simple, Fast and Easy Fundraiser!
​How Does the Poppin' Popcorn "Online Fundraiser" Work?

Buttery Caramel
Cheesy Cheddar
Cheddar Jalapeno
Chicago Style
Texas Cheddar Habanero

White Cheddar

Chocolate Delight

Strawberry Shortcake

Fruity

Ranch

Three Cheese
Easy Fundraising Ideas

Earn 50% Profit for school fundraising ideas, sports teams, clubs, youth groups, and a host of other fundraising organizations with our Poppin' Popcorn Fundraiser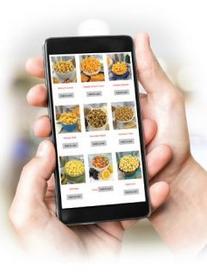 ■ Our online popcorn fundraiser has no fees to set up your online store and you can start right away. There are no worries in waiting to receive an invoice and having to mail a payment. Once your sale is complete a check will be sent to you for your profit.
■ Kids love popcorn fundraisers and selling popcorn will increase your participation. Increased participation increase in sales! Increased sales mean more money raised for your organization! A Poppin' Popcorn online fundraiser is a great way to raise money because your customers will love the wide variety of flavors and there is something for everyone! Parents interested in healthier snacks will appreciate knowing that Poppin' Popcorn pops in a heart-healthy air popper versus an unhealthy oil popper.
■ Poppin' Popcorn offers fundraisers at any time of the year. Some shipments in the summer may ship later if the summer heat is too hot.
■ Without question, Poppin' Popcorn is a top-selling popcorn in the USA today, and selling popcorn is easy, fast, and fun! Your school, sports team, or group will earn up to 40% profit on every popcorn item you sell. Whether your customers love a traditional popcorn flavor such as Buttery Caramel or like to try something new like Dill Pickle, we have a large selection of flavors to choose from. Our Poppin' Popcorn online fundraiser offers something for everyone. Your participants can easily sell 20-30 items each! With just 20 sellers you can easily sell 400-600 items or more! You'll discover most of your supporters will purchase multiple items!
■ Unlike many fundraising programs, Poppin' Popcorn has a low minimum order.
■ Success in fundraising comes from overall participation, not just a few top sellers. Because Poppin' Popcorn fundraising items are so easy to sell you will achieve greater participation when choosing a popcorn fundraiser and therefore, higher sales. Plus, popcorn fundraisers are really great for repeat fundraisers.
■ With the challenges of COVID-19, a Poppin' Popcorn online fundraiser is one of the very few fundraisers offering a fast and easy way to achieve 40% profit, no shipping costs to the organization, no minimums, no case requirements, Additionally, once an order has been placed it will ship quickly. Many of your customers will order again before your fundraiser has closed! Everyone loves Poppin' Popcorn and our online popcorn fundraiser is perfect for any organization that is tax-exempt, and organizations of any size. Why Wait? Get started today!
■ We provide extended evening and weekend office hours to help you from start to finish. Call or email me directly anytime! Our customer service and commitment to helping you succeed set us apart!o




Serving the 48 contiguous United States















Poppin' Popcorn Fundraiser - Online Popcorn Fundraiser



If you are searching for a popcorn fundraiser with brochures and an online store, please consider the popcorn brochure below. It is available for ANY organization and is available throughout the continental USA.
Click on image to view brochure
■ Welcome to Poppin' Popcorn! Our contactless, 100% online popcorn fundraiser, earns your group big profits!
​■ Easy and fast to start selling online, our popcorn fundraiser earns your tax-exempt organization a 40% profit with no fees. There are no order forms, no money collection, and no delivery headaches.
​■ As a sponsor, signing up and inviting your participants has never been easier. Sponsors simply invite your participants by email, mobile device, or handing out the "Support My Fundraiser" brochure.
■ Participants will receive a message with a link to sign up. Your participants can sell to your customers completely online via social media, emailing, or send text messages by using a computer, tablet, or smartphone.
■ Customers simply click on the link you send them, choose from 16 delicious flavors offered in 1-gallon and half-gallon size bags of popcorn, and pay by using their credit or debit card.
■ All orders are shipped directly to the customer's home and when the fundraiser ends, a check is sent directly to the organization.
■ There is no door-to-door selling and no sorting or delivering products in person. All sales can be made from the safety of your own home by using your very own seller dashboard.
■ Family and friends can help out too! They can simply post your store link and seller ID to their Facebook page, they can send emails with the link, and text your seller ID to their friends and family to increase your potential sales. You can then watch your profits roll in as your goals are reached right from your phone or pc!
​■ At the conclusion of your fundraiser, a check will be sent to you for your 40% profit.
■ Fundraising has never been so easy and safe! Get started today. Call us at 860-384-3691.
■ We'll provide coaching to help your campaign succeed, we offer extended office hours Mon-Sat 9 am-9 pm and Sun 11 am-6 pm. When you require help, we'll be available to assist you!


​

​​

Helping Organizations Raise Money Since 2002​​

Kettle Corn

Cookies & Cream

Movie Theater Butter

Cinnamon Toast

Dill Pickle
Poppin Popcorn - 100% Online Virtual Fundraiser


​Questions? 1-860-384-3691